Malaga's coast better known as the Costa del Sol stretches along more than 160 km of Mediterranean coastline, a space that offers visitors more than 130 beaches and some of the best surf spots on the Spanish Peninsula.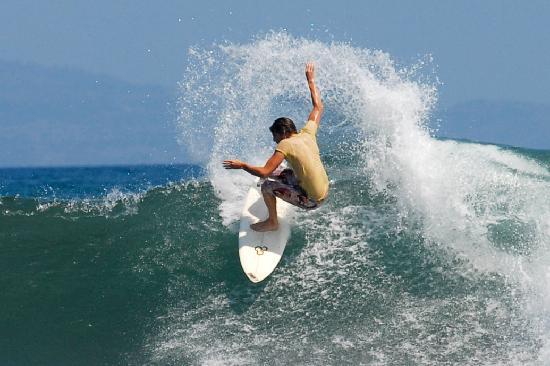 The excellent weather in this province of southern Spain, added to the relaxed atmosphere of its people, has made the Costa del Sol one of the essential places to visit for surf lovers, especially from autumn to spring, when you can enjoy some of the best winds on this coast.
While in Cadiz the Levant wind is the prevailing wind, in Malaga and Fuengirola the rhythm is set by the Poniente winds that, between May and October, can exceed force 6 and create perfect waves for surfing.
Some of the best places to spend an afternoon of surfing are found in the beach area of Laguna Beach, as is the case of Torrox, a perfect spot for the months of October to May. Other areas, such as Fuengirola have spots that can be enjoyed almost throughout the year. This is the case of the beach of El Castillo, just below the castle of Fuengirola, a sandy area very natural and unspoilt, near the famous and crowded beach of Los Boliches.
Nearby Fuengirola, in the village of El Chaparral, is another of the surfing spots most visited in Malaga: it offers great waves and not too big, perfect for those who are beginning and for the veterans, who want a quiet place where to be able to always practise surf.
To enjoy a surfing holiday in Malaga, one of the best places to stay is the coast of Fuengirola. There are hotels in Fuengirola for holidays of all kinds: from family getaways to group holidays for surfing and other adventure sports, as in the case of Confortel Hotels in Malaga.
Ideally, if one can choose, is to book a hotel with free wifi in Fuengirola to check daily the strength of the winds and go to the most appropriate spot depending on the day.
There are also important surfing and sailing schools in the Los Boliches area that allow you to use the trip to learn or improve your technique. Many hotels on the beachfront in Fuengirola offer this service for this kind of trips.