Sol Katmandu Park is Sol Hotels' new proposal for this summer 2013: an accommodation in which fun, beach and relaxation come together to offer a new experience at a classic holiday destination. The result, is the first hotel in Majorca with an integrated theme park.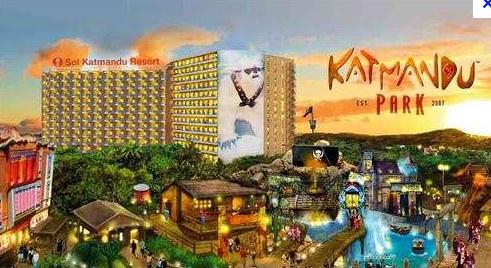 Designed for families and groups of friends looking to enjoy the sun of Majorca, but at the same time, looking for different experiences in accommodation, hotels with character and with a complementary offer tailored to their needs.
The new Sol Katmandu Park combines the advantages of its location, just steps away from the beach of Magaluf, and next to one of the most popular nightlife areas of Majorca. It is also one of the islands main traditional, family holiday destinations. As well as all these exciting proposals, we can't forget the facilities and services of the hotel: 2 outdoor swimming pools for adults and children, restaurant, mini club for 5-12 years and group and family rooms…
The Katmandu Park is a state of the art centre of attractions located in the heart of Magaluf and easily identifiable. Its external appearance is of an upside down animated manor house, surrounded by lush gardens and playground areas, bars, restaurants… The park offers shows and group games: from a 3-dimensional experience to fun mini golf courses, theme dinners, legendary characters and surprises of all kinds.
Although the entrance to Katmandu Park is open to the public, guests of this hotel for groups in Magaluf have VIP entrance, the Katmandu Play Pass that you will receive on arrival. This is a valid document for your entire stay and gives you free access to the theme park. In addition, the pass includes a free trial for the wave swimming pool at the Sol Wave House hotel and discounts in bars and restaurants.