Today we bring a question back to the table: Is there a rating higher than 5-star? What is a deluxe hotel? Why hotels insist on talking about it, and announce with great fanfare that a hotel raises category? Well, it's just marketing. They see the need of stressing that their services are above this category.
Many would think that any hotel considering itself much better, will add the Deluxe, just like that. But is not that easy. The star classification is worldwide guaranteed, especially in the European countries, and you have to meet a series of requirements in order to get it: cleanliness, space, number of rooms and restaurants, etc.  Nevertheless, many important factors are not valued in this system, despite that nowadays they make the difference. This is why this trade in Spain, with an implicit agreement of everyone, but equally official, such as deluxe 5-star.
For example, this summer, the 5-star hotel in Costa Adeje of IBEROSTAR, Grand Hotel El Mirador has got the Deluxe category thanks to its 120 suites and junior suites, VIP terraces, new restaurants decoration… Nevertheless, what 5-star category includes is mainly that hotels have air conditioning, a number of lifts, telephones in the rooms and common areas, terraces in the rooms, bathrooms, accessibility (especially those hotel with more than 150 rooms), etc.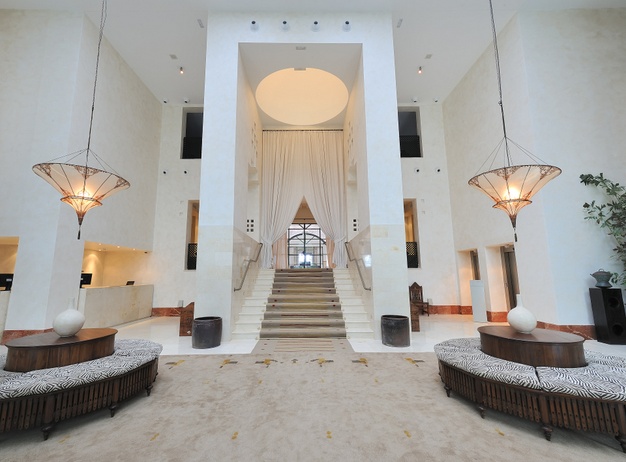 In these cases, to stand out what makes the hotel different from the rest and to give it a luxury category (at least, what luxury means to consumers), many chains offer their own exclusive hotel line, the best ones in its portfolio and join them into a concept that can be the previously mentioned Grand of Iberostar, with hotels such as Grand Hotel Mencey or Grand Salomé but it doesn't include for example Iberostar Anthelia, one of the most appreciated 5-star all-inclusive hotels in Costa Adeje.
Other hotel chains call it "Selección", such as Vincci Hotels, with clear examples like Vincci Selección Estrella de Mar, although Vincci Costa Golf doesn't have this special category, despite it is one of the most complete an emblematic hotels. These decisions of including or not a hotel don't depend on services but on a line, a style characteristic of these hotels that could be design or a type of public or special services.
4-star rating is similar.  In many cases, the distinction is small, but because of the space, they never reach the 5 stars. This doesn't mean that they are not luxury hotels: they could be even better. This is the case of many boutique hotels in Spain and Europe that have 4 stars, but in most of the cases they are more wonderful, luxurious and better designed than 5-star hotels. Some of them have 4-star superior rating, for example.
A good example of this is Petit Palace chain. That has always invested on boutique hotels (they have less rooms than normal hotels, and this allow them to provide a more personal attention to guests). Accommodations such as Petit Palace Savoy Alfonso XII, Petit Palace Embassy Serrano, Posada del Peine or Art Gallery worth these famous 5 stars, but as they don't have big dining rooms or restaurants, or their number of rooms is more limited, they cannot get this category. But they are still one of the most exclusive hotel collections in Madrid.
IBEROSTAR Las Letras, the new hotel in Gran Vía managed by the Majorcan company, is a similar case, although it has more rooms than other boutique hotels of Petit, it is a design hotel, charming, with luxury spaces, but limited because it is not easy to expand their spaces or their number of services or rooms in the centre of Madrid. We can also see this in other chains such as Catalonia, with outstanding accommodations such as Catalonia Las Cortes or Catalonia Barcelona Plaza.