The way we travel has changed drastically in recent years. Today, whether you are traveling on business or for leisure, with friends, with your partner or your family, it is very common for someone to carry a laptop, a tablet or a smartphone that requires a good connection to the Internet.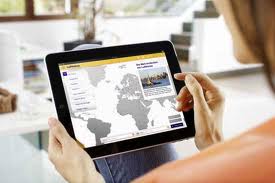 We buy our flight tickets directly, book our hotel online, we carry our travel guides on our phone, we go from restaurant to restaurant following the recommendations of other clients that we check in real time… At the same time that our travel habits change and there is an increase in demand for hotels with internet in Barcelona or Madrid, or even in tourist resorts on the coast os Spain, the hotel's offer also adapts.
Hotels with free wifi in Madrid or holiday resorts with an Internet corner are increasingly common in the portfolios of major Spanish hotel chains, such as Confortel Hotels.
While many offer these services with a small extra charge, other hotels have gone a step further and are offering their clients an open internet access network to connect to from anywhere in the hotel.
Choosing a good hotel with Internet in one of the great cities is always a wise option, as it allows you to control and personalise the trip to the fullest, being able to choose right away the most interesting offers and the cultural proposals that best suit our tastes.