To celebrate a wedding in Madrid in 2014 could be one of the best options for those with a guest list of people geographically dispersed.  The capital, apart from offering some of the best hotels for weddings in Spain, is in the middle of the country and has excellent transport connections, far superior to those in any other destination.
Madrid combines the beauty of unique architecture, many types of organized activities for various days, culture for all tastes, leisure activities for all ages and the most outstanding night life in the whole of Spain. Additionally, the capital is home to scenarios that are very original backgrounds for the photo shoot for the wedding, such as the bustling Callao square, the Gran Via, the Retiro park, the gardens of Sabatini and the Puerta del Sol.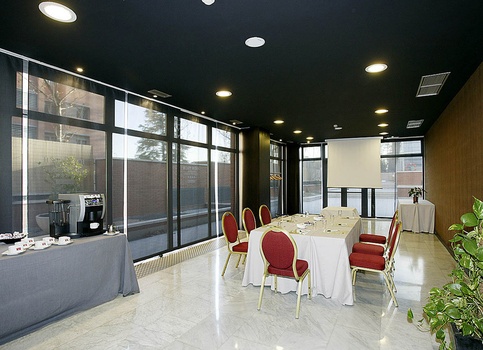 Some of the activities or most interesting and easily organized trips for those who attend the wedding will offer them an unforgettable memory while being easily affordable and very original. Prepare bicycle routes around Madrid for the guests to enjoy, create a discount card for visits to the museums, before the wedding design a day of tapas (finger food) and drinks, arrange special prices in bars or book a night club to enjoy on the big day until dawn… Madrid has everything.
However, the biggest advantage of celebrating a wedding in Madrid is, without doubt, that which we mention above, it is the perfect meeting place for the celebration of the event. In Madrid there are hotels for events for all tastes and pockets, with personalized attention and modern facilities.
On the list of the best hotels for weddings in Madrid you cannot exclude the hotel in Paseo de la Castellana Petit Palace President Castellana, with family rooms in the centre of Madrid, free breakfast for children, late checkout free on Sundays and Mondays, three multifunctional lounges with a total of 280 m2 and capacity for up to 100 persons.
Also, apart from these great hotels, Madrid offers many with infinite locations and possibilities.
Here you will find other suggestions:
Hotel Madrid Airport – also part of the Petit Palace group, with its distinct style combining traditional and modern. This is an ideal hotel in the area of Barajas to accommodate guests because it is a hotel in Madrid with transfers to the airport from 6 until 11 in the morning and from 20.30 to 23.00 hours every day.  There is also an attractive open air terrace with solarium and family rooms.
Hotel Ritz Madrid – a classic amongst the 5 star hotels in Madrid, the Ritz is ideal for an elegant and baroque wedding because it is a Belle Epoque palace. There are delicately decorated lounges and it is situated very near to the Museum of El Prado. A plus are the spectacular gardens where one can organize cocktails and other events.
Hotel Lealtad Plaza – for those who are looking for a singular space, a designer hotel in Madrid with all facilities and a privileged situation, this establishment is a must.  With a lounge for events with capacity for 50 people, this space is for intimate weddings in Madrid, combing luxury and comfort with an excellent quality/price ratio. One of the strong points are the rooms, you can enjoy four and five bedded rooms in the centre of Madrid. 
Hotel Alcala Torre – To be married in one of the most emblematic buildings in Madrid is possible thanks to this hotel in the centre of Madrid.  Originally the former headquarters of the Union and Fenix and one of the first sky scrappers built in the Spanish capital, it maintains the New York style that served as inspiration for its design.  With modern decoration with touches of pop and retro, it offers a singular scenario where you can organize an original wedding in Madrid.  Apart from a lounge for events another plus are rooms for six people next to Puerta del Sol.  A good option to accommodate the whole family.
However, you do not have to choose an hotel specially equipped for events.  You can book  a hotel for the guests (with a nuptial suite where possible) and then organize a banquet or cocktail in a special restaurant, a romantic garden or events centre specifically in the capital.  There is an extensive offer of these services and private catering which allows you to be versatile without exceeding your budget.