We continue with the top destinations of 2016. Exploring the Spanish geography, looking for different innovation options to design tailor made holidays. We leave aside big capitals to focus ontypicaltouristicdestinations, in which one always feels like being on holiday. Let's go!
SANTA CRUZ DE TENERIFE
Let's go far away in this beginning of 2016 and let's organize an escape to The Canary Islands: it is not necessary to take more than 4 days free, but a traditional long weekend to discover Santa Cruz de Tenerife, one of the most charming cities of the fortunate islands. It is the Administrative capital in conjunction with Las Palmas de Gran Canaria, and it combines the charm of a traditional Canary city with the energy and liveness of the modern metropolis, dynamic and full of activities for all ages. Thanks to this island special weather, travellinginwinter monthsislike travelling directly to summer time. Temperatures are nice, without extreme heat ups and you can even see the dawn in a cloudy day.
We suggestyouto avoidtravellingduring carnival to take advantage of lower prices, unless you want to experience the magical energy of these February days in the city. End of January or even March are more affordable options, but take care because Easter holidays come early this year. Before travelling, take a look attheeventsagendaof Tenerife Auditorium, one of the most culturally active places of the capital.
We suggest you to indulge and treat yourself to a different accommodation experience. We find in Santa Cruz one of the oldest hotels in Spain, the Grand Mencey, a 5-star hotel in Tenerife, unique not just for its facilities (spa, gourmet restaurant, terrace bar, cooking class, suites, event venues…) but for its history, hosting many international celebrities.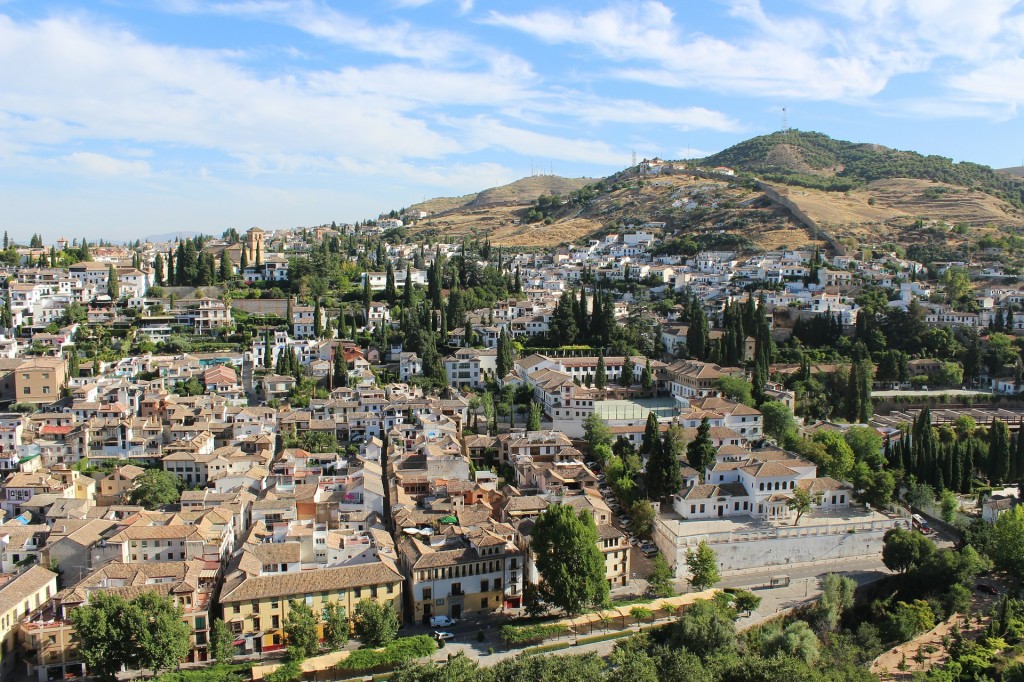 GRANADA
It' snow the best season to travel to Sierra Nevada. While it is not the best Winter for snow escapes, due to the nice temperatures all over Spain, organizing a friends' getaway to Granada is always a good option, because the city itself provides a wide range of cultural plans, as well as spectacular landscapes that worth to be explored and enjoyed calmly.
Granada offers those who visit it for the first time a great amount of interesting places, monuments and sightseeing to walk by and take the required picture. In addition, the university and relaxingatmospheremakesitone of the best cities in Andalucía to go out and have fun in the morning or at night.Atapastouris a must, and it should include a visit to the traditional taverns of Los Diamantes,CasaEnrique, Castañeda wineries, Elrinconcilloor Los Martinetes in Realejo's neighbourhood.
Staying in the centre of Granada is much more convenient, especially if we can just escape for a couple of days. We selected a different place for the snow vacation, a destination that has become a reference in Granada's accommodation network, hotel Rumaykiyya, a 5-star hotel at the food of the slopes, in the Monachil's neighbourhood Sol y Nieve, really close to Pradollano.
HUELVA
Sun, beach, natural environment, relax and high quality gastronomy… Beginning the new year in thiswayispriceless. It is so easy as taking 4 days to discover Costa de la Luz. Of course, Huelva is one of the top destinations of 2016, in particular Matalascañas in Almonte. It stands out for its spectacular and long Sandy beaches and it is one of the best places to travel with kids or in couple. It is full of firstleveltouristicservicesthat recently started a reconversion to a higher quality tourism with new leisure alternatives for all ages.
Faro's walk, Matalascañas and Caño Guerrero beaches and of course Doñana's National Park are some of the main attractions of the destination, unique for its traditional culture and delicious gastronomy and for its people always up to have fun and greet visitors. The weather is always nice even in windy days as the beaches become spectacular sceneries of huge waves to practice surf.
The holiday accommodations in this area of Costa de la Luz are different because of their services, prices and location. We decided to choose in this case a golf hotel in Matalascañas which provides a wide range of interesting services:  free Wi-Fi, gastronomic buffet, typical Andalusian bar, solarium terraces near the pool, parking…It's called Fergus Cortijo Golf and room prices are really, specially booking in advance through the official Fergus Hotels website.