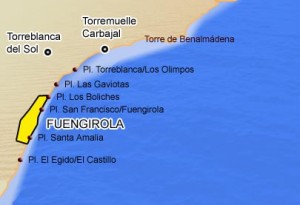 Fuengirola is one of the favourite destinations for family holidays at any time of year. The climate of this dynamic city located on the verge of the Mediterranean makes many visitors, summer after summer, return to the coast to enjoy the sun, beach and their family holidays.
The beautiful beach of Los Boliches, the sea side promenade, the lively nightlife, the full city services, the places for leisure and sport… Fuengirola makes available to its visitors all sorts of possibilities for enjoyment during their holidays at a very affordable price.
The city of Fuengirola is one of the best adapted in Spain and an ideal place to travel with children. It has a zoo, mini golf, tourist train to discover the best of the city, playground areas for children, traditional festivals and an extensive program of theatre, films and puppets for younger ones of the family.
To this, we can add its versatile hotel offer for holiday accommodation in Fuengirola. Accommodations will surprise you with their high level of quality, both in basic facilities and in their more innovative ones: nowadays you can find a good hotel with wellness centre in Fuengirola, next to the beach and with a personalised service at very competitive prices.
If you are traveling with children, there are also excellent hotels for family holidays in Fuengirola, such as those of Confortel Hotels, with mini club services, children's menus and monitors. Accommodation designed especially for you to rest while the younger ones have fun and learn safely.