Benidorm is a city that never sleeps. While by day its beaches and streets are full of family and senior tourists, by night the young (and not so young) people take up the streets to go to pubs and discos of the capital of Costa Blanca.
It is usual beginning the night drinking something in the most relaxing pubs and bars of the old quarter. Later, going to the big discos of the outskirts where you can carry on the party until small hours.
Benidorm is famous for its lively atmosphere, and with good reason, because this city houses many bars, pubs and discos with different styles for different publics. The most popular party areas are: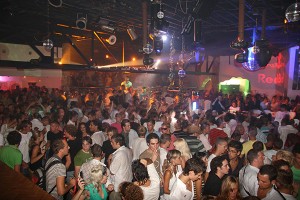 –          Zona 9: It is mainly placed in Lepanto street, which is plenty of pubs by both sides. There you will find the well-known Racha Pub, Tico Tico, Zona 9 (from which its name is taken), Ambigú and Marea. In these bars you will listen to music of different styles, and are very frequented by people from Benidorm and the rest of Spain.
–          Old quarter: It is located in the surroundings of Alameda street, specifically in the small street Los Gatos. This area has a very Spanish atmosphere with both national and international music. Most of the locals stay open until 4am, and prices are really affordable.
–          Levante beach: In this area are situated the beach discos of the great clubs placed in the outskirts of the city, such as Ku Playa, KM Playa, Penélope Playa and Racha. These pubs are the leading up to the big discos where people go afterwards. They receive both national and international public, and stay open until more or less 5am. Their prices are higher than in other areas.
–          Zona Guiri: It is called by this name because it is always plenty of English tourists, who have almost colonised these bars. Actually, they use to play the music they like. It is placed in the surroundings of Rincón de Loix, Lepanto street and Mallorca street, and prices are usually expensive.
–          Zona Disco: As night advances, people go to the big discos located in the outskirts of Benidorm, namely in the Comunidad Valenciana avenue. Here are Penélope, KU, KM, Privilege X, Manssion, Urdenground and Pacha. Most of them close at 8am, although there are also After Hours where you can go afterwards if you still want party.
–          Alternative bars: If you prefer an alternative music style, Benidorm offers other bars such as Rock Star in Gerona street or Heartbreak (rock music too) in Levante beach. There are also other locals with Indie style such as Pulp Fiction, Ambigú and other bars in the Esperanto street and Dr Orts Lorca street.  
Some hotels with offers in Benidorm:
–          Gran Hotel Bali
–          Prince Park Hotel
–          Benidorm Bristol Park Hotel
–          Benidorm Perla Hotel
–          Benidorm Agir Hotel