The need to remove physical barriers and provide the opportunity to travel for those who would like to, is one of the challenges that Spain's hotel chains have faced in recent decades. There is still much work to do, but in Spain, adapted holidays are a reality and many associations, hotels and complementary services collaborate with the objective of making available to everyone, the opportunity to enjoy the beautiful experience of travelling the world.
Tourism for disabled people and/or with physical disabilities, represents a growing demand that many travel agents and other key industry players have been able to notice and persuade. While there are still many barriers to overcome, both at destinations as well as at accommodations, transports and attractions, it is important to mention that the government and private businesses are working to facilitate all visitors to enjoy their cities.
Madrid and Barcelona, as the main city destination for tourism in Spain, are two of the cities that have worked in this regard, and where tourism services for disabled people have grown considerably in recent years.
For example, in Madrid's official tourism offices, guided tours of the city for disabled people are offered, with routes that reveal the so called "Triangle of Art"without any problems, visit the famous Old Madrid of the Austrias or visit the Gran Via. The most important museums of the city, the Prado and the Reina Sofia museums, also have adapted services designed for handicapped visitors.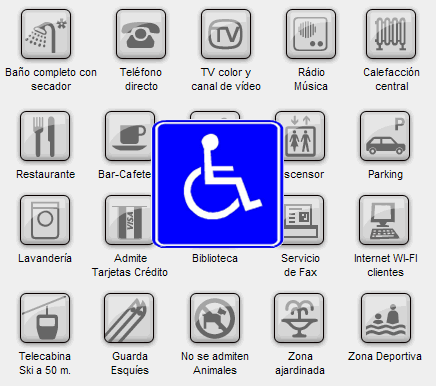 Barcelona, offers the traveller many areas of the city, among which are two classics such as the Barcelona Modernista and the iconic Gothic Quarter, where you can visit the Cathedral and Sagrada Familia. For more information on adapted travel, the city of Barcelona has a specific website for information: Barcelona Access.
As for the accommodation, one of the major hotel chains of adapted hotels in Barcelona and Madrid is Confortel Hotels, which has a modern portfolio of hotels without barriers in both cities:
· Hotel Bel Art – Located in the Eixample, next to the Sagrada Familia. With free Wi-Fi and a restaurant.
· Hotel Suites Madrid. – Located near the Castellana Avenue, it has Internet, comfortable furnishings and restaurant.
· Hotel Almirante. – Located in the Gothic Quarter, near Las Ramblas. With Gym.
· Hotel Auditori. – Next to the Arco del Triunfo in Barcelona. Has a swimming Pool.
· Hotel Alcala Norte. – Hotel within walking distance of IFEMA, perfect for trips to business fairs and congresses.
· Hotel Pio XII. – A hotel near the airport of Madrid Barajas. With restaurants.