Gran Canaria is a destination where a traveller can find almost everything. Every corner of the islands hide a different holiday experience, from the lively atmosphere at Port Morgan to the incomparable tranquility of the beautiful Playa de Amadores. You only need to choose the right moment, forget for some days the daily obligations and breathe in some freedom on the shores of the Atlantic.
The south of Gran Canaria is a destination full of proposals, one place to go looking for refuge from the routine, a balm to recover and live life in a different way. In autumn, when the days begin to get shorter in central and northern Europe, the view of a semi deserted beach of Amadores is certainly enjoyable: September and October are one of the best times to organise a relaxing trip to this southern coast of the island.
Booking a hotel or apartment in Amadores is a guarantee of sunshine and good atmosphere whether one decides to do a romantic escapade with their partner or a holiday with the entire family. There is no need to plan a long stay: a simple 4 day escapade is enough to relax and reconnect with oneself before returning to their daily duties.
For those travelling with children, it is important to note that, although in Spain at this time of the year there are no school holidays, there are daily proposals aimed for the enjoyment of the younger ones of the family. Examples include sport classes in the afternoon, language workshops, traditional dances, painting lessons….A good option for parents to enjoy their own free time while kids are having fun learning.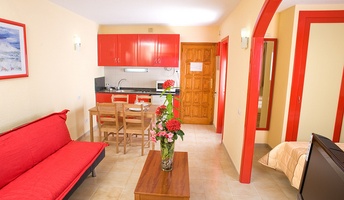 Romantic dinners in a restaurant with views to the beach of Amadores, a room off the coast of Mogan, a trip by bicycle or horse to the village, lying down under the sun with a good book… Everyone can choose how to live their holidays, without complicated procedures while organising the travel arrangements: the offer in this area of Gran Canaria is so abundant that the difficult part is deciding on what to spend the limited free time we have.